Post by John on Dec 15, 2011 21:50:47 GMT
So many happy memories I shared through the old forum

. Here's another one I didn't want to lose:-
Leaving home mid-afternoon, I thought I might have a bit of time to look round Gloucester before the concert at 7.00. Joining the M25 (London Orbital motorway) my expectations changed to "Will I get there in time?" Luckily (?) the traffic was so slow that I could safely consult my atlas to find an alternative route and left at the next junction. No problems for the rest of the journey until about 10 miles outside Gloucester where there was another massive queue. Maybe it was all for the best though, as I reached the city centre less than five minutes after they stop charging for parking. Time for a quick bite to eat then a short walk to the Cathedral.
As I entered the Cathedral Close, I found crowds of people milling about outside, listening to a brass band playing from the roof (nearly) and watching a stilt walker twirling hoops outside the entrance.
The event was entitled "Gloucestershire Performs" and with the number of acts advertised I didn't expect Mary-Jess to be playing a huge part in the evening. It was no surprise then when I looked at the programme to see she was singing just two songs, but my heart leapt when I saw the titles.
I think the people were being so well entertained outside that they didn't want to come into the Cathedral, so the concert started a few minutes late.
The evening was basically a celebration of local talent, all the performers being from Gloucestershire. It was mainly musical with a selection of choirs, bands and soloists, but there was also a dance group and a circus performer. The evening was compered by Mark Cummings, a presenter from BBC Radio Gloucestershire.
Mary-Jess was on about two thirds of the way through the first half. She appeared in a delicate pink dress and was interviewed briefly by Mark, before singing her first song 'Glorious'.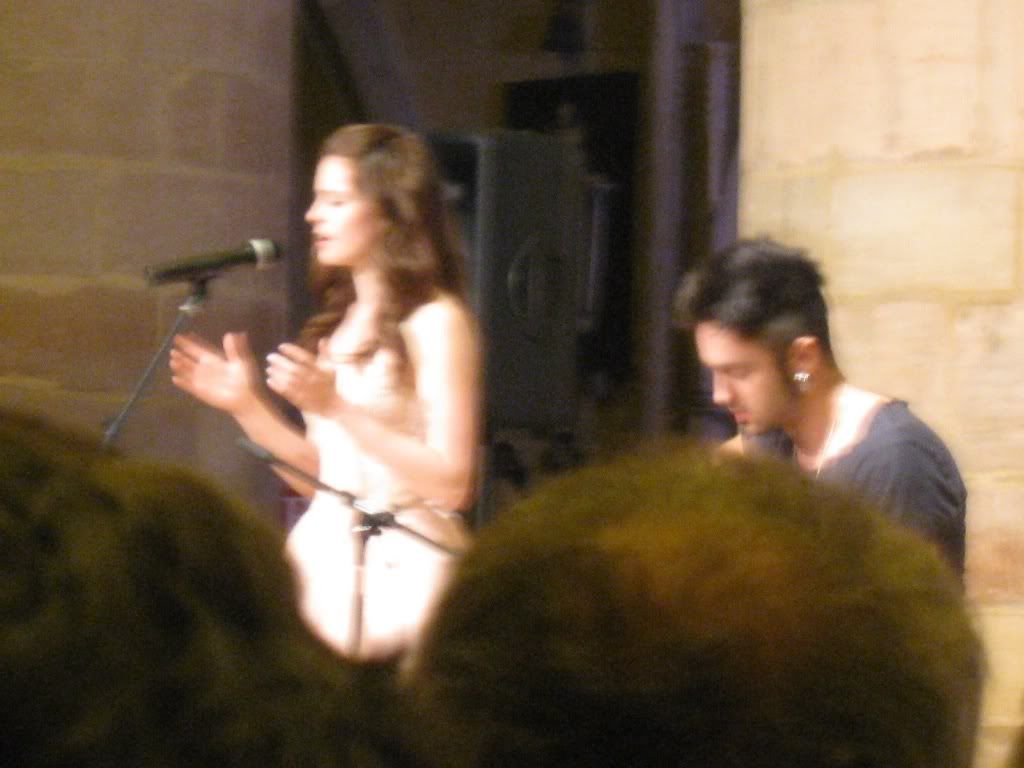 This was with a simple guitar accompaniment and was the arrangement we have seen on a couple of the TV videos where the first time she sings "glorious" it is at a lower pitch than on her album. The second time round was stunning, resulting in the most enthusiastic applause of the evening so far.
Mary-Jess's second song was 'Lighthouse of Mine', also with the guitar accompaniment. This always tugs at my emotions whenever I listen to the recording, and those feelings were even more intense hearing it sung live. I just sat there mesmerized as the tears rolled down my cheeks.
I didn't know whether Mary-Jess would be coming out to talk to people in the interval, but I set off to look for her just in case. I started at the door where the performers had been appearing and found the room where they had been gathering, but no sign of Mary-Jess. Through the cloisters and back in at the other end of the Cathedral, past the stage and back towards my seat; I was just about to give up when I noticed a small group of people behind a large pillar close to where I was sitting. To my delight, I found Mary-Jess there, talking to the winner of her photo competition. I waited until they moved on before asking Mary-Jess to sign my copy of 'Shine', which she did in English and Chinese. She was also quite willing to have a photo taken with me. Most of the people coming up to her seemed to be family or old friends. Only relatively few asked for an autograph, for which her father stood in as a writing desk. (Maybe I should have taken a photo of that, but I didn't think of it at the time.)
A bonus in the second half was that Mary-Jess rejoined her old choir, the Gloucester Cathedral Youth Choir, to sing a solo verse in Shenandoah.
All in all, it was a great evening. Although the quality of performances was a little variable, I would have enjoyed it even without Mary-Jess, though I definitely wouldn't have travelled such a distance without that incentive. But having now seen Mary-Jess perform live and met her, I will readily admit to being what MC calls me – a lucky guy!